(1) CHENGDU WORLDCON VENUE CONSTRUCTION UPDATE. The Chengdu Worldcon committee is meeting in China and Vice Chair and Hugo co-Administrator Dave McCarty is there.
He has added a photo gallery to his Facebook page showing the progress in constructing what will be the main venue, called the Chengdu Science Fiction Museum in press reports.
McCarty says, "The current completion projection for the building, lake that surrounds it, and park that contains it is now August 30."
(2) WISCON BOX SCORE. WisCon 46, held May 26-29 in Madison Wisconsin, was a hybrid convention, with some events being in-person and others being virtual. Attendance for the con was:
570 in-person for all or part of the weekend (the limit was 600);

154 online memberships.
(3) THE FIRST LOTR MOVIE NEVER MADE. Den of Geek mined the letters of Tolkien to rediscover "The 1950s Lord of the Rings Movie That J.R.R. Tolkien Absolutely Hated". The proposal was agented by Forrest J Ackerman, known for many things good and bad, among them his long record of making cameo appearances in movies. It's interesting to speculate where he might have shown up in a Fifties version of Lord of the Rings.
All of the English-language screen versions of The Hobbit and The Lord of the Rings came out after J.R.R. Tolkien passed away in 1973, so we'll sadly never know what he might have thought of them. But things were nearly quite different. In the late 1950s, Tolkien and his publishers seriously considered a proposal for an animated film, which even got to the script stage before the project was eventually scrapped.

In 1957, Tolkien was approached by an American film agent, Forrest J. Ackerman, about a proposed animated film adaptation of The Lord of the Rings. Early on, Tolkien was really quite positive about the idea, in a pragmatic sort of way. At this stage, Tolkien was shown some drawings and color photographs to indicate the sort of look they were going for in the animation, and he read a "Story Line," a synopsis of the film's proposed plot….

By June 1958, however, Tolkien had finished going through [Morton Grady] Zimmerman's treatment and was thoroughly unimpressed. He sent Ackerman a copy of the script complete with his own notes and comments. A lengthy series of extracts were published along with his letter to Ackerman in The Letters of JRR Tolkien. Here are a few highlights…

… Tolkien had historical issues with Zimmerman's treatment of Rohan and the Rohirrim, too. He complains that "in such time" kings like Théoden did not have private bedrooms, presumably meaning in Northern Europe during the early medieval period, which is roughly the inspiration for Rohan. He also said they did not have glass windows that could be thrown open, something he felt strongly enough about to put two exclamation marks on, and added, "We might be in a hotel."…
(4) PAUL ECKSTEIN (1963-2023). Paul Eckstein, co-creator and executive producer of the drama series Godfather of Harlem and an actor who appeared on Star Trek: Voyager and Star Trek: Deep Space Nine and many other shows, died June 6 at the age of 59 reports Deadline.
…Before co-creating Godfather of Harlem, along with his writing partner Brancato, Eckstein led the writers room on the first year of the hit Netflix drama Narcos. Eckstein also wrote and produced the Disney/ABC biblical series Of Kings and Prophets on location in South Africa. His other writing credits include Street Time, Law & Order: Criminal Intent and The Dead Zone….
(5) JOSHUA QUAGMIRE (1952-2023). Cutey Bunny creator Joshua Quagmire (Richard Lester) died in a Santa Monica, CA hospital around May 28 reports Taral Wayne. His sister posted this notice in social media: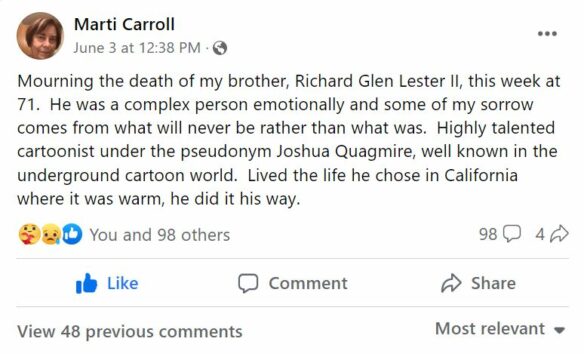 (6) MEMORY LANE.
1991 – [Written by Cat Eldridge from a choice by Mike Glyer.]
I'm a big fan of Michael Swanwick having first encountered him when I read his Jack Faust novel and then the Iron Dragon's Daughter trilogy. What I've read of The Periodic Table of Science Fiction flash fiction was quite enjoyable.
Our Beginning is that of Stations of the Tide which I really like. It was first published by William Morrow and Company thirty-two years ago in hardcover and paperback editions. The cover art is by Daniel Horne.
It would win a Nebula as well an SF Chronicle Award while being nominated for a Hugo at MagiCon. It was nominated for a John W. Campbell Memorial Award as well.
Here is this really great Beginning….
The Leviathan Said
The bureaucrat fell from the sky.
For an instant Miranda lay blue and white beneath him, the icecaps fat and ready to melt, and then he was down. He took a highspeed across the stony plains of the Piedmont to the heliostat terminus at Port Richmond, and caught the first flight out. The airship Leviathan lofted him across the fall line and over the forests and coral hills of the Tidewater. Specialized ecologies were astir there, preparing for the transforming magic of the jubilee tides. In ramshackle villages and hidden plantations people made their varied provisions for the evacuation.
The Leviathan's lounge was deserted. Hands clasped behind him, the bureaucrat stared moodily out the stern windows. The Piedmont was dim and blue, a storm front on the horizon. He imagined the falls, where fish-hawks hovered on rising thermals and the river Noon cascaded down and lost its name. Below, the Tidewater swarmed with life, like blue-green mold growing magnified in a petri dish. The thought of all the mud and poverty down there depressed him. He yearned for the cool, sterile environments of deep space.
Bright specks of color floated on the brown water, coffles of houseboats being towed upriver as the haut-bourgeois prudently made for the Port Richmond incline while the rates were still low. He touched a window control and the jungle leaped up at him, misty trees resolving into individual leaves. The heliostat's shadow rippled along the north bank of the river, skimming lightly over mud flats, swaying phragmites, and gnarled water oaks. Startled, a clutch of acorn-mimetic octopi dropped from a low branch, brown circles of water fleeing as they jetted into the silt.
"Smell that air," Korda's surrogate said.
The bureaucrat sniffed. He smelled the faint odor of soil from the baskets of hanging vines, and a sweet whiff of droppings from the wicker birdcages. "Could use a cleansing, I suppose."
(7) TODAY'S BIRTHDAYS.
[Compiled by Cat Eldridge.]
Born June 8, 1910 — John W. Campbell Jr., 1910 – 1971. As you well know, he was editor of Astounding Science Fiction (later to be called Analog Science Fiction and Fact) from late 1937 until his death and was part of the Golden Age of Science Fiction. His novella Who Goes There? was adapted as The Thing from Another World, The Thing and yes once again as The Thing. (Died 1971.)
Born June 8, 1915 — Frank Riley. He's best known for They'd Rather Be Right (co-written with Mark Clifton) which won a Hugo Award for Best Novel at Clevention. Originally published in serialized form in Astounding unlike his eight short SF stories that were all published in If. His "The Executioner" was the cover story for the April 1956 issue of If. (Died 1996.)
Born June 8, 1917 — George D. Wallace. He's here for playing Commando Cody in the early Fifties Radar Men from the Moon movie serial. He would later show up as the Bosun on Forbidden Planet, and had minor roles late in his career in Multiplicity, Bicentennial Man and Minority Report. He also played a Star Fleet Admiral in "The Man of the People" episode of The Next Generation. (Died 2005.)
Born June 8, 1928 — Kate Wilhelm. Author of the Hugo Award–winning Where Late the Sweet Birds Sang. She also won a Hugo Award for Best Related Book and a Locus Award for Best Nonfiction for Storyteller: Writing Lessons and More from 27 Years of the Clarion Writers' Workshop. SFWA renamed their Solstice Award the Kate Wilhelm Solstice Award. She established the Clarion Workshop with her husband Damon Knight and writer Robin Scott Wilson. (Died 2018.)
Born June 8, 1946 — Elizabeth A. Lynn, 77. She is well known for being one of the first sff writers to introduce gay and lesbian characters as part of her stories. So in honor of her, the widely known A Different Light chain of LGBT bookstores took its name from her novel of that name. Her best known work is The Chronicles of Tornor series.
Born June 8, 1947 — Sara Paretsky, 76. Best best known for her private detective novels focused on V.I. Warshawski, she has one genre novel in Ghost Country. It, too, involves V.I. Warshawski and may or may not involve things of supernatural nature.
(8) COMICS SECTION.
Bliss has a special on kaiju cuisine.
Loose Parts supplies a scene that was left out of the Book of Jonah.
The Far Side shows the moment before a time travel mistake becomes a tragedy.
xkcd takes up the skepticism about UFO evidence. (There may also be SJW credentials involved….)
Thatababy stages a peculiar race between two comparable DC and Marvel characters.
(9) MASTER PIECE. "Doctor Who stars delight fans as Master and Missy unite in new video" – RadioTimes made sure we didn't miss it.
Doctor Who fans have had their imaginations set alight by a shared Instagram post from Sacha Dhawan and Michelle Gomez, where the Master actors can be seen strutting down a flight of stairs together.

The reason for their meeting was not given, but fans were thrilled to see them together, with each known for their popular incarnations of the Doctor's classic arch-nemesis….
(10) ANAKIN SKYWALKER AND CASSIAN ANDOR. Variety eavesdrops on a conversation between "Diego Luna and Hayden Christiansen On How 'Star Wars' Has Changed Their Lives".
Hayden Christensen and Diego Luna have never met, but as Christensen puts it, they've occupied the "same galaxy" for years. Christensen rocketed from teenage obscurity in Canada when George Lucas cast him as Anakin Skywalker for 2002's "Star Wars: Episode II — Attack of the Clones" and 2005's "Revenge of the Sith," which chronicled the young Jedi's transformation into the iconic villain Darth Vader. The Mexican-born Luna — who rose to prominence in Alfonso Cuarón's 2001 coming-of-age masterpiece "Y tu mamá también" — joined "Star Wars" for 2016's "Rogue One," a prequel about the band of rebel spies, led by Luna's Cassian Andor, that steal the plans for the Death Star….

CHRISTENSEN: I'd really love to hear about how you got into "Rogue One." You were already a very established actor.

LUNA: It was the first time such secrecy happened around anything I was going to be part of. I was asked by my agent to meet someone for something that couldn't be said on the phone. I went into a meeting in a restaurant that was completely empty. There was a guy sitting in the corner with a computer open, and this was Gareth [Edwards], the director. I sat down with him, and it was just us for four hours.

CHRISTENSEN: So you had no concept that it was "Star Wars" at all at this point?

LUNA: My agent said, "This might be 'Star Wars.'" I guess she didn't want me to get excited about anything. Gareth explained to me the whole film, and he said at the end, "I would really like you to play this role." I said to him, "But I don't see myself here. I love these films, but how do I fit here? No one has my accent. I've never thought this could be possible." He basically said, "Since I saw 'Y tu mamá también,' I thought you could be great for a role like this. I want that kind of tone in the film. I want that realism, that feeling that it's everyday life." I never thought that a film like "Y tu mamá también" would get me the chance to be in the world of "Star Wars."

CHRISTENSEN: That's what I love about it. It's a much darker and more grounded sort of take. I think it was very important for "Star Wars." I love your performance. There's so much subtlety to it and nuance to it, which you can't always get in stories like these.
(11) OCTOTHORPE. The summer of fun continues! Episode 85 is "Super Smart or Completely the Opposite".
John Coxon is at a convention, Alison Scott is in a cottage, and Liz Batty is not at a festival. This time we have a bevy of letters of comment, discussions about Satellite 8 and the Hugo Awards, and also picks. One pick is for some obscure book you won't have heard of.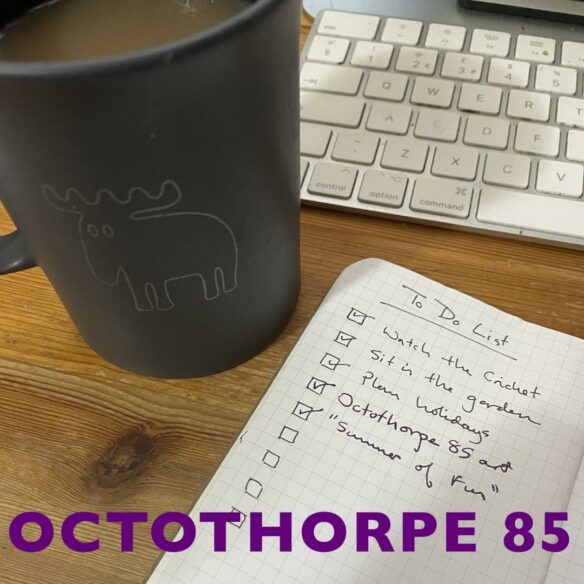 (12) NATURE BARS THE DOOR TO AI. [Item by SF Concatenation's Jonathan Cowie.] Nature, the world's leading multidisciplinary science journal (well perhaps rivaling Science but that's the other side of the Pond and we all know what goes on there (in part thanks to File770)), is the latest to ban AI use in its content. "Why Nature will not allow the use of generative AI in images and video".
Saying 'no' to this kind of visual content is a question of research integrity, consent, privacy and intellectual-property protection….

Apart from in articles that are specifically about AI, Nature will not be publishing any content in which photography, videos or illustrations have been created wholly or partly using generative AI, at least for the foreseeable future.

Artists, filmmakers, illustrators and photographers whom we commission and work with will be asked to confirm that none of the work they submit has been generated or augmented using generative AI

Why are we disallowing the use of generative AI in visual content? Ultimately, it is a question of integrity. The process of publishing — as far as both science and art are concerned — is underpinned by a shared commitment to integrity. That includes transparency. As researchers, editors and publishers, we all need to know the sources of data and images, so that these can be verified as accurate and true. Existing generative AI tools do not provide access to their sources so that such verification can happen.

Then there's attribution: when existing work is used or cited, it must be attributed. This is a core principle of science and art, and generative AI tools do not conform to this expectation.

Consent and permission are also factors. These must be obtained if, for example, people are being identified or the intellectual property of artists and illustrators is involved. Again, common applications of generative AI fail these tests.

Generative AI systems are being trained on images for which no efforts have been made to identify the source. Copyright-protected works are routinely being used to train generative AI without appropriate permissions. In some cases, privacy is also being violated — for example, when generative AI systems create what look like photographs or videos of people without their consent. In addition to privacy concerns, the ease with which these 'deepfakes' can be created is accelerating the spread of false information

Appropriate caveats

For now, Nature is allowing the inclusion of text that has been produced with the assistance of generative AI, providing this is done with appropriate caveats (see go.nature.com/3cbrjbb). The use of such large language model (LLM) tools needs to be documented in a paper's methods or acknowledgements section, and we expect authors to provide sources for all data, including those generated with the assistance of AI. Furthermore, no LLM tool will be accepted as an author on a research paper.
(13) DUELING PLATFORMS. With the upcoming Apple TV+ release of The Crowded Room, JustWatch has compiled its quality content ranking of the most popular streaming platforms.
The top position belongs to Apple TV+, with a 0.66 point lead over the global giant: Netflix, which is struggling in fifth place despite such hits as "Squid Game" and "Stranger Things". 

Apple TV+ attributes this advantage to a number of highly rated TV Shows such as Ted Lasso, which won 11 Primetime Emmys, and Severance with 2 Primetime Emmys under its belt. The film Coda won 3 Oscars, making Apple TV+ the first-ever streamer to win Best Picture, Best Supporting Actor and Best Adapted Screenplay.
[Thanks to John King Tarpinian, Chris Barkley, Michael Toman, Darrah Chavey, Lise Andreasen, Taral Wayne, Kathy Sullivan, Cat Eldridge, SF Concatenation's Jonathan Cowie, Mike Kennedy, and Andrew Porter for some of these stories. Title credit belongs to File 770 contributing editor of the day Cat Eldridge.]